The Grand Review

January - March 2009
'The Graffiti House - Where the Handwriting is on the Wall'
To navigate this newsletter scroll down for a complete look or click below on the article of interest.
Brandy Station Foundation Annual Dinner
Celebrating 20 years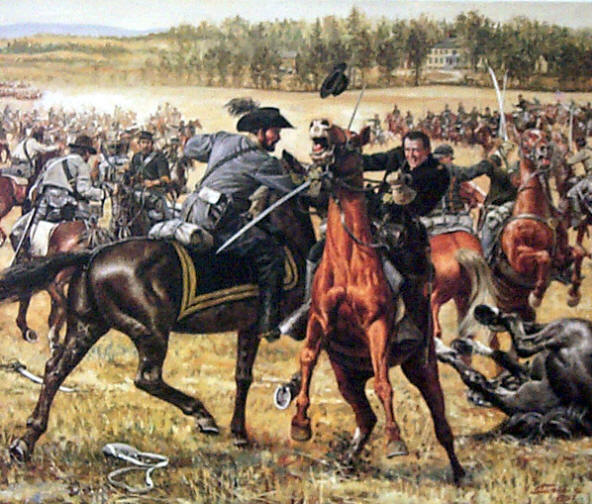 "Duel on Yew Ridge" by Don Stivers is the cover illustration of Daniel Beattie's new book.
Join us as we celebrate 20 years (1989-2009) of effort by dedicated volunteers to conserve and protect the historic rural character and the Civil War battlefields of the Brandy Station area within Culpeper County, Virginia.
The special guest speaker will be Dr. Daniel Beattie who recently released his latest book: Brandy Station 1863: First Step Towards Gettysburg, It is published by Osprey and is volume #201 of the Campaign Series. The author, a generous supporter of the BSF, will be signing copies of his new book before the dinner. Dr. Beattie will talk about "The Remarkable Career of David McMurtrie Gregg and His Strange Performance at the Battle of Brandy Station."
Dr. Beattie commissioned three original paintings by Adam Hook for this book. He has generously donated the originals to the Brandy Station Foundation. They are called: Save the Day! ; Buying Time on the Beverly Ford Road ; and, Buford on Cunningham's Ridge. We will be proud to display them at the annual dinner and thereafter at the Graffiti House.
Dr. Daniel Beattie is a native of southern New York. He earned a BA at the City University of New York, and a MA and PhD at Duke University. For many years he served on the Boards of Trustees of the Association for the Preservation of Civil War Sites (as Secretary) and the Civil War Preservation Trust (as Chairman of the Battlefields Preservation Committee). He has received the highest Preservationist Award of both groups. He was a member of the Shenandoah Battlefields National Historic District Commission, which set up the present Foundation of the same name. He sat on the Board of the Brandy Station Foundation for about 10 years. He has been instrumental in saving each of the parcels of land preserved on the Brandy Station battlefield.
He has conducted guided tours of many American and European battlefields. He lives in Charlottesville, Virginia, with his wife of 34 years, Peggy, and two children.
When: March 20th. Please arrive at 6:30 PM to visit with friends. Cash Bar available
Dinner will be served at 7:00 PM
Where: Brandy Station Volunteer Fire Department Hall at 19601 Church Road, Brandy Station, Virginia 22714
RSVP: By March 11th by phone (540) 727-7718 (Graffiti House), or (540) 399-1637 (Board member Helen Geisler) or email: graffitihouse@brandystationfoundation.com, or click here then print, complete and mail the form to the Brandy Station Foundation, P.O. Box 165, Brandy Station, Virginia 22714
Mr. Dusty Rhodes of the Little Fork Rangers donated a beautiful Civil War era gown. It is French, circa 1861 with an unusual repeated pattern. It would have been a lady's "Sunday Best". The dress will be displayed at the Annual Dinner.

Brandy Station Foundation Christmas Party
A great time was had by over a hundred people at the Christmas Party in December. Santa Claus (i.e. Dale Brown) listened to young and old; Robert E. Lee (i.e. George Wells) graced the party, and The Wilderness Run Players provided beautiful dulcimer music. Carolyn and Jack Reeder were present to sign copies of their new book published by the Foundation called From a True Soldier and Son: The Civil War Letters of William C. H. Reeder. Thirteen of young William's letters to his parents were datelined either Encamped near Culpeper or Brandy Station. Karla Sedeita brought her gourmet food to add to the Graffiti House gift shop items--from peaches to peanuts and mulling spices.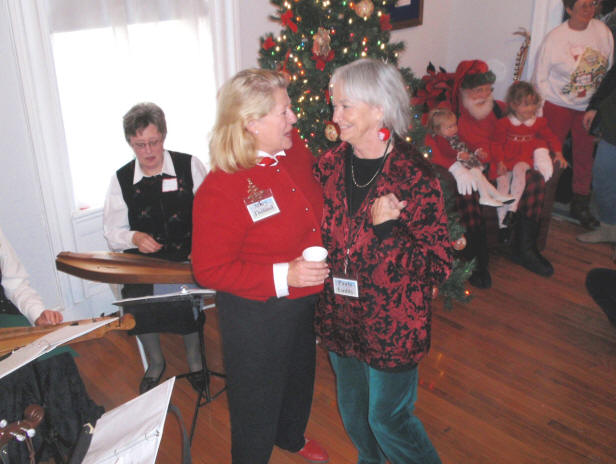 Mary Tholand (left, Secretary of the BSF) and Paula Luddy (wife of BSF President Bob Luddy)
chat at the BSF Christmas party. Wilderness Players to the left, Santa to the right.
For additional pictures click here.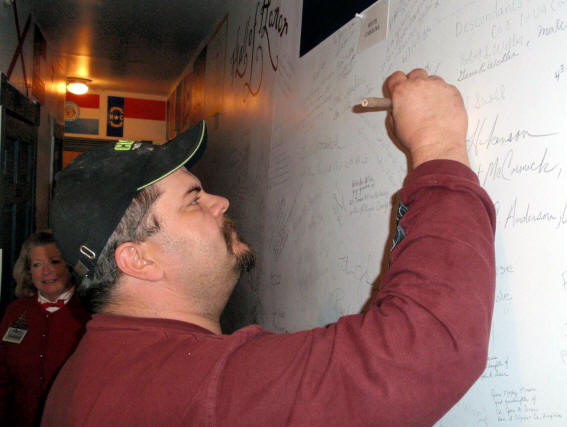 George Colvin, great great-grandson of George Mechoir Sheads (Little Fork
Rangers and 6th Virginia Cavalry) signs the wall.
Visitors to the Graffiti House are invited to sign a 21st century Wall of Honor downstairs if they have a relative who was in Brandy Station with either Northern or Southern troops. Visitors are asked to sign their relative's name and unit if known and then their name and relationship. Signatures from many states are displayed! Many enjoy this unique connection between the present and the past.

Sunday Lecture Series for 2009
4/26/09 "The Emergence of Grant" - Richard Deardoff
5/31/09 "The Courts-Martial of Lt. Col. Henry Clay Pate" - Joseph McKinney
6/28/09 "Three Years a Soldier" - Richard Griffin
7/26/09 "The 19th Century Art of Mourning" - 49th Virginia reenactors
8/30/09 "Walt Whitman's Civil War" - Melissa Delcour
9/27/09 "The Civil War in Culpeper Through the Eyes of Artists and
Photographers" - Michael Block
10/25/09 "The Music of the Civil War" - Evergreen Shade

Saturday Battlefield Tours for 2009
Beverly Ford & St. James Church (April 4, May 30, July 25)
Kelly's Ford & Stevensburg (April 18, June 13, Aug 8)
Fleetwood Hill (May 2, June 27, Aug 22)
Buford Knoll & Yew Ridge (May 16, July 11, Sept 5)
Tours leave from the Graffiti House at 10:00 am and last 2 hours. Cost is $10.00 for adults, children are free. No reservation needed, just show-up at Graffiti House before ten. For info contact Gary Wilson at 540-547-4106 or email BSFJune91863@aol.com. Full tour schedule at www.brandystationfoundation.com. Special tours for individuals or groups on other days can be specially arranged.
Graffiti House Restoration Update
On July 1, 2007, the Brandy Station Foundation was awarded a grant in the amount of $14,250 from the Department of Historic Resources of the Commonwealth of Virginia. In order to secure this grant, the Foundation matched this amount. The investigative phase of the restoration project is complete and initial stabilization of four areas of the walls has taken place. This has used up the grant money from the State. The Foundation would like to thank Virginia State Senator Edd Houck and Representative Ed Scott for their support which resulted in the approval of this grant request.
Phase I for the restoration of the House is to stabilize the main floor framing to make it safe for visitors. This will be at a cost of approximately $28,000.00; this work will begin very shortly at minimal impact to visitors. A Phase I Oversight Committee has been formed ; the Committee will contract the project to a qualified vendor after receipt of a valid contract. The report gives an estimate for Phase II, the stabilization of the 2nd floor, a cost of $74,000.00 .
Funds will need to be raised for the project. If you would like to contribute to this project, please send a check to the "Brandy Station Foundation" and write "Graffiti House Restoration" in the memo line.
Park Day 2009 is Saturday, April 4th

Fauquier County High School students work in the backyard of the Graffiti House.
The Civil War Preservation Trust, in coordination with the History Channel, will be sponsoring "Park Day 2009" on Saturday, April 4. This effort involves well over a hundred Civil War sites across the country that encourage volunteers to come out and help maintain these areas of historic importance. In the past, Volunteers at the Graffiti House have cleared trails, planted trees, weeded and mulched the gardens. The trail at Kelly's Ford has been kept open over the past few years because of this effort. Anyone who wishes to help can show up at the Graffiti House at 9AM on April 4. Please bring work clothes and gloves and any landscaping tools you have. For more information, contact Richard Deardoff at

deardoff@comcast.net

or 540-937-7718.
Fauquier County is sponsoring a free Civil War Symposium on March 28, 2009 from 8 AM-5:30 PM at the Fauquier High School Auditorium in Warrenton, Virginia. The symposium is titled "Bivouacs & Battlefields: the Civil War landscape of Fauquier County".
The symposium will focus on twelve battles and engagements that took place of began in Fauquier County. Four of the fights have a direct relationship to Brandy Station and northern Culpeper County: the fight at Rappahannock Station in August 1862 ; the March 1863 fight at Kelly's Ford, where the 'Gallant' Pelham fell are two of the four,
The Gettysburg campaign and the Battle of Brandy Station have its roots in Fauquier County. The two Federal Cavalry wings under Brigadier Generals John Buford and David Gregg crossed into Culpeper County at Kelly's and Beverly Ford on the misty early morning of June 9 to begin what was to become the largest cavalry battle during the Civil War and ever in North America.
The final action was the second Battle of Rappahannock Station in November 1863. It was here where the Army of Northern Virginia was forced from Culpeper County for the last time.
Author Gary Adelman, from Historic Associates Incorporated and a Gettysburg licensed battlefield guide has been compiling the majority of the information with input form various members of the historical community. Michael Block from the Brandy Station Foundation is on the committee that is overseeing the effort.
Confirmed speakers include Robert K. Krick, Gary Adelman, Bud Hall, Bob Zeller, and Childs Burden.
This event is FREE! Lunch will be available for purchase. The Brandy Station Foundation will have a table at this event with information and articles for sale.
Revised Membership Policy Reminder
The Brandy Station Foundation Board of Directors has enacted a long overdue new membership policy. As with all non-profit organizations, the Foundation has been affected by the economy of the nation.
Effective immediately, the ANNUAL dues for the BSF will be $25 per household. Our membership year will run April 1 through March 31. Any dues received between December 1, 2008 and March 31, 2009 will be applicable through March 31, 2010. Any amount you wish to send over the $25 annual dues will be gratefully received as a donation.
Pleases send your dues in by April 1, 2009.
Click here for membership application