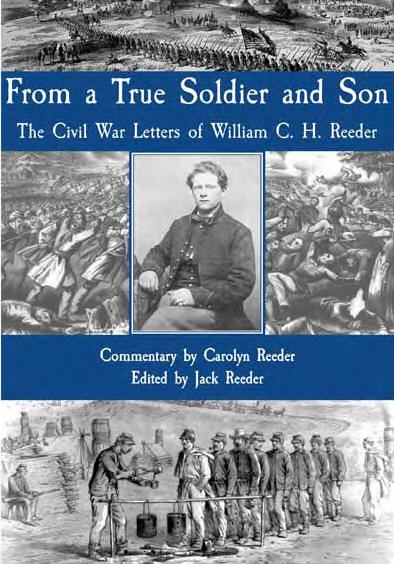 BSF announces the publication of FROM A TRUE SOLDIER AND SON: THE CIVIL WAR LETTERS OF WILLIAM C. H. REEDER. (William was in Company A of the Twentieth Indiana Infantry Regiment throughout the war.)
Thirteen of young Williamís letters to his parents were datelined either Brandy Station or Encamped near Culpeper. He wrote that he was close to the railroad "where we can see the iron horse as he goes snorting by." Besides describing daily life in winter camp, Williamís letters give a first-hand account of the Mine Run Campaign.
Other letters tell of fighting on the Peninsula, at Gettysburg, and in the Overland Campaign of Spring 1864 and also provide accounts of wartime events that are less well documented. These include eye-witness reports of the Merrimac wreaking havoc on the Unionís blockading vessels the day before her duel with the Monitor, accounts of living through a hurricane while occupying Hatteras Island, months spent in a Washington hospital, and being detailed to New York City in the aftermath of the draft riots.
Three years of young Williamís letters to his parents in Indianaóplus commentary, maps, and illustrationsóhave been compiled by Carolyn and Jack Reeder, a professional writer/retired editor team as well as BSF members and descendants of the letter writer. (Many Virginia readers are familiar with the Reederís books about the people who lived in the area that is now Shenandoah National Park.)
FROM A TRUE SOLDIER AND SON is available at Graffiti House, and it can also be ordered by mail. (236 pages; 6 maps; 67 illustrations; $17.95.) Proceeds from the sale of the book will help fund the restoration of Graffiti House. (Order Form)
Carolyn Reeder is the author of over 10 books focusing on the Civil War, the Blue Ridge Mountains and World War II. Her husband, Jack, is a direct descendant of William Reeder.